Slovenske Konjice
What to see in this city?
Get to know the city
---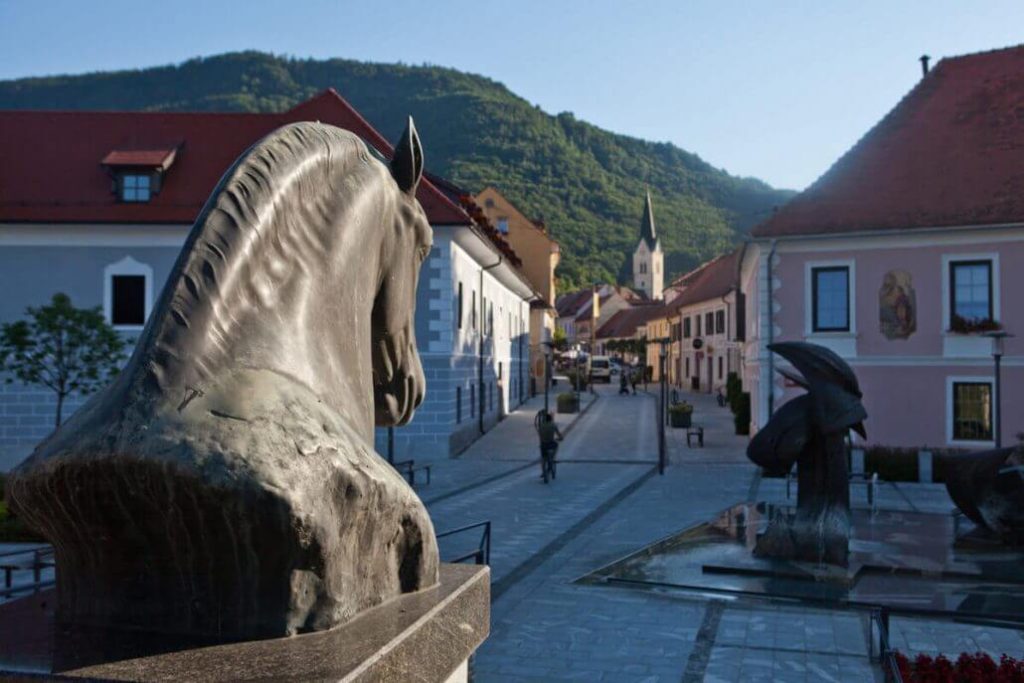 Tradition and urbanism intertwined
Welcome to the embrace of the town which for centuries has been telling its enchanting stories.
Stari trg (Old Square) In the shelter of the magnificent St. George's parish church, the layout of the square has been preserved since the times of its first mention in the 12th century. Through its recent authentic renovation, the square has become the town's modern urban centre. The Konjice brook, which runs directly through the centre of the square, gives it a special charm.
The Town Gallery is located in a renovated townhouse. It exhibits a rich private collection of artwork of well-known Slovenian and foreign artists as well as some wonderful pieces of antique furniture. On the ceiling of one of the rooms there is a depiction, in the form of a fresco, of the legend of the Konjice dragon.
St. George's Church was first mentioned in 1146 in a document of the Aquileia Patriarchate – Peregrin. The first church in Slovenske Konjice dates back to the times prior to 1146; today's church was erected subsequently. The late-Gothic church with pointed edges on the south side forms a nice Baroque rosary chapel. The belfry reaches a height of 62m.
The Museum Collection of Military Objects from the Austro-Hungarian Period is located in a renovated market house. It exhibits military and other objects from the period of the Austro-Hungarian monarchy, as well as objects connected to the history of Slovenske Konjice.
The Trebnik Manor House is a 14th century Renaissance manor, which in the past was the home of numerous noble residents of Slovenske Konjice – from the Tattenbach Counts, to the Žiče Carthusians and the Windischgrätz Princes. Today it houses the first dispersed hotel in Slovenia, seminar rooms, a restaurant, and a diverse range of services dedicated to health and wellbeing.
Žvikart Beekeeping, close to the old town centre Žvikart Beekeeping has been maintaining the family tradition of beekeeping for over 50 years.
The Zlati grič (Golden Hill) Wine Cellar is located in the embrace of the Škala wine-growing hills directly above the town centre. It is surrounded by a 75-hectare vineyard which boasts a picturesque 9-hole golf course and apartments in the wine grower's mansion and the Grič restaurant. Wine tasting and guided tours are available, and it is a unique venue for special events.
---
In case of additional questions, contact us or visit the website of each city.