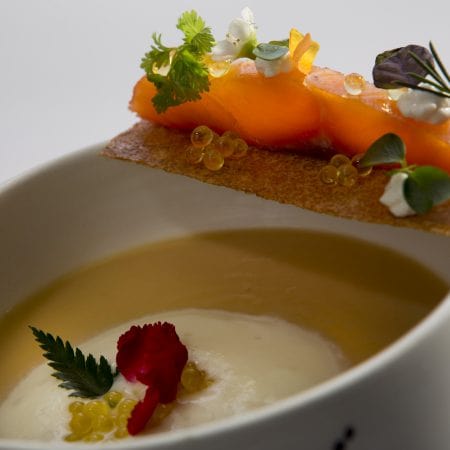 okusi mest
/ 4. May 2022
Smoked trout soup with Cold smoked trout with horseradish foam
By Chef Uroš Štefelin
Ingridients for 8 people.
Smoked trout soup
Ingridients:
150 g of red carrots
150 g of yellow carrots
150 g of tuberous greens
150 g of tuberous kohlrabi
150 g of shallots
500 g of hot smoked trout
thyme, garlic, marjoram, salt, pepper
2 l of fish base
Preparation:
Fry the shallots and smoked trout, add the vegetables, seasons and pour over the fish base. Cook until the vegetables are soft. Mix.
Cold smoked trout with horseradish foam
Ingridients:
8 slices of cold smoked trout
4 brick dough
2 egg yolks
Preparation:
Coat the dough with egg yolks and place slices of trout on it. Cover with another layer of dough.
Place between the silipates and weigh down and put in the oven at 180 ° C for 15 – 20 minutes (depending on the thickness of the trout).
Horseradish foam
Ingridients:
100 g of potatoes
2 dcl sweet cream
30 g of horseradish
salt, white pepper
½ dcl of potato water
½ dcl of olive oil
Preparation:
Mix soft-boiled potatoes with other ingredients. Pour into a siphon. Decorate the soup.
You can taste it in Radovljica